The SAMPE Europe 23 Conference will be held in Madrid, Spain from 3 – 5 October 2023. The event will be organized in a joint co-operation between SAMPE Ibérica and SAMPE Europe. The event will be LIVE.
Location: Euroforum El Escorial Madrid, Spain.
"

Advanced and Sustainable Composites

"
A Pre-Conference Tutorial Program and the 38th SAMPE Students Seminar are held in conjunction with this SAMPE Europe International Conference. At SAMPE Europe Conferences over 100 authors are on stage. They present high-quality Technical Papers that focus on Challenging Applications in Advanced Composites Materials and their Processes. In the accompanying exhibition over 30 sponsoring companies will present their most recent innovations. Delegates from over 25 countries are expected.
The conference programme also will include:
38th SAMPE Europe Student Seminar
Tutorials Program
Poster Presentations
Plant Tours
Exhibition of Sponsors
Table Tops
Chairs
Tamara Blanco Varela – President SAMPE Ibérica
Guy Larnac – President SAMPE Europe
Members
Maria Dolores Vazquez Navarro – SAMPE Ibérica
Xoan Xosé Fernández Sánchez-Romate – SAMPE Ibérica
José Sanchez – SAMPE Ibérica
Rafael Ávila Dominguez – SAMPE Ibérica
Asier Gandarias – SAMPE Ibérica
Rafael Izquierdo – Hexcel / AEMAC
Rafael Lizarralde – IDEKO
Rudolf de Ruijter – Conference Manager SAMPE Europe
Riana Jongema – Conference Asistent SAMPE Europe
Scientific Cie.
Rafael Avila Dominguez – Airbus Commercial – SAMPE Ibérica – Chairman
Prof. Conchúr Ó Brádaigh – University of Edinburgh – SAMPE Europe – Vice Chairman
Members
Alicia Ayuso Gonzalvo – Airbus Defence & Space – Spain

Eduardo de la Guerra – TALGO -Spain

Pedro Camahno – University of Porto – Portugal

Josep Costa Balanzat – University of Girona – Spain

Enrique Graciani Díaz – University of Seville – Spain

Antonio Fernández López – Polythecnic University of Madrid – Spain

Xoan Xosé Fernández Sánchez-Romate – University Rey Juan Carlos – Spain

Carlos González – IMDEA Materials – Spain

Berta Gonzalvo Bas – AITIIP Centro Tecnológico – Spain

Cristina Elizetxea Ezeiza – Tecnalia Research Centre – Spain
Scientific Support Team SE Conference 23
Chairs – SAMPE Europe Conferences 2014 – 2022
Arnt Offringa – GKN Fokker  – Netherlands – (Paris 14)
Prof. Jyrki Vuorinen – Vaasa University – Finland – (Amiens 15)
Prof. Aart van Vuure – KU Leuven – Belgium – (Liege 16 / Amsterdam 20)
Henrik Schmutzler – Lufthansa Technik  – Germany – (Stuttgart 17 / Hamburg 22)
Prof. Conchúr Ó Brádaigh – University of Edinburgh – UK – (Southampton 18)
Guy Larnac – Ariane Group – France – (Nantes 19)
Prof. Véronique Michaud – EPFL – Switzerland – (Baden 21)
Jury 38th SE Students Seminar 23

Chairman
Christian Weimer, SAMPE Germany
Vice Chairman
Charlotte Salaun, SAMPE France
Members
Carwyn Ward, SAMPE UK & Ireland
Xoan Xosé Fernández Sánchez Romate, SAMPE Ibérica
Matthias Geistbeck, SAMPE Germany
Adrie Kwakernaak, SAMPE Benelux
Jim Johnson, SAMPE USA
Rich Caruso, SAMPE Global
Assistant
Eduardo Gonzalo, SAMPE Ibérica
All presentations will be LIVE on stage. A Live ticket includes all presentations in the Main Conference, lunches, network dinner and plant tours included. Attendance of the Tutorials can be booked in addition. The Proceedings with all Peer reviewed Technical Papers and PPT's of Industrial Authors are free for download from the Platform. Delegates will receive a Personal Conference Code (PCC) to contact all Delegates of the conference through the Platform after.
Pre – Conference
Sunday 1 – Tuesday 3 October
38th SAMPE Europe Student Seminar For invited students only. All chapters and clubs of SAMPE Europe will select the best Master and Ph.D. student from their respective countries.
Tuesday 3 October
14.00 – 17.00 – Pre-Conference Tutorials and Showcases by Spanish and Portuguese Composite related Companies and Institutes.
Main Conference
Wednesday 4 October
9.00 Opening session with key-note speakers from Boeing and Airbus
9.50 Presentation Winners 38th Students Seminar
10.00 – 10.30 Coffee break – Sponsor Exhibition & Poster Presentations
10.30 – 12.30 Parallel Sessions
12.30 – 14.00 Lunch – Poster Presentations & Exhibition of sponsors and Table Tops
14.00 – 15.30 Parallel Sessions
15.30 – 16.00 Coffee break – Sponsor Exhibition & Poster Presentations
16.00 – 18.00 Parallel Sessions
18.00 – 18.30 Break
18.30 – 19.30 Panel Discussions on Conference Theme related topics
19.30 – 21.30 Happy Hour & Network Dinner
Thursday 5 October
8.00 – 8.30 Registration
8.30 – 10.00 Parallel Sessions
10.10 – 10.30 Coffee break – Sponsor Exhibition & Poster Presentations
10.30 – 12.30 Parallel Sessions
12.30 – 14.00 Lunch | Poster Presentations & Exhibition of sponsors and Table Tops
14.00 – 18.00 Composite related Plant Tours to Companies & Institutes in the Madrid Area (Leaving from 13.00 Hrs Return depening traffic)
Tutorials and Plant Visits
At registration delegates must fill out their choice for attending a Plant Visit and/or Tutorial.
Tuesday 3 October 14.00 – 17.00
Pre-Conference Tutorials (2 choices):
Tutorial 1 – Process Automation and Digitalization
With 3 presentations of:
This tutorial discusses the importance of flexibility in the manufacturing of composite parts using Automated Fiber Placement (AFP) and Automated Tape Laying (ATL) technologies. In the past, the choice between AFP and ATL was primarily based on the curvature complexity of the part, with high curvatures favoring AFP and low curvatures favoring ATL. However, the introduction of the TORRESFIBERLAYUP AFP machine by MTorres in 2007 revolutionized the market by significantly improving productivity and reliability.
This tutorial of IDEKO presents the Edge computing platform solution, Danobat Box, for machine data capture and software application processing. The "Process Fingerprint" application for anomaly detection during the machining process will be presented. Linked to it, the "Quality Hallmark" application for quality reporting will be shown. Finally, the "Machine Fingerprint" application for the development of a predictive maintenance strategy based on machine condition will be proposed. Real industrial use cases will be exposed in the tutorial.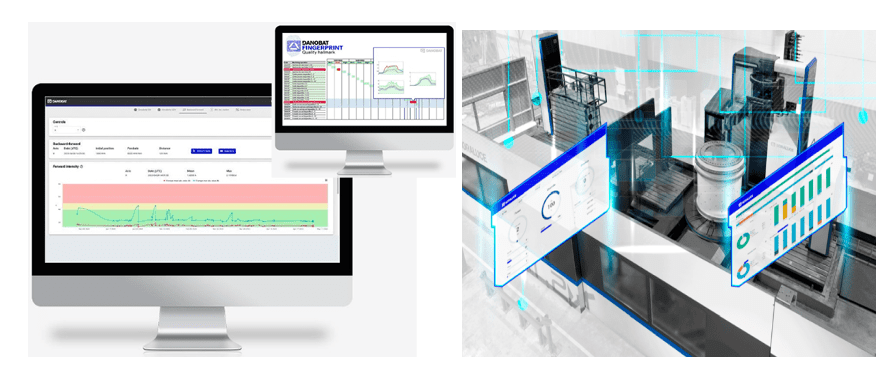 Danobat (Automation and precision robotics)
The tutorial of Danobat provides an overview of accuracy on robotics and the different approaches used to increase the performance of robots. The definition and standards applied on robot accuracy evaluation will be presented. Results on accuracy improvement related to kinematic and stiffness modelling will be discussed. Methods for online and offline robot accuracy error correction will be shown. Finally, the use of additional sensors to further increase robot accuracy will be proposed. The tutorial will present the accuracy improvement values obtained mainly in the use case of robotic machining.

Tutorial 2 – Sustainability
With 4 presentations of:
Mechanical recycling is the one that requires the lowest energy, the most environmentally friendly and the fastest processing and facile scalability, when compared to thermal and chemical processes and, moreover, to the production of virgin CF. Its main drawback is the own-recycled product. Recycled CF (r-CF) are short, single filaments and bundles, with non-uniform short lengths and containing possible resin residues. Therefore, the main challenge is their process optimization and the development of high-content r-CF products with thermosetting matrix, using preforms, nonwoven mat, 3D foams or/and scaffolds, to manufacture new multifunctional composites. On the other hand, to prevent serious problems in the future, new reversible bio-resins are being developed to get recyclable, repaired and reshaped composites.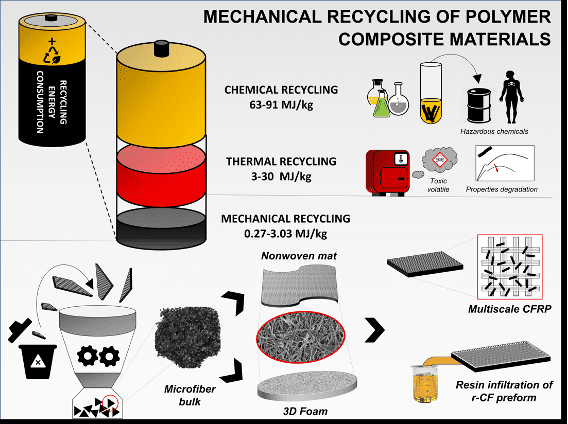 The increasing global demand for sustainable materials has promoted extensive research efforts in the development of eco-friendly composites. Vitrimers, a type of dynamic polymers, possess the unique ability to rearrange their chemical structure while preserving their mechanical properties, allowing them to be reshaped, repaired and recycled. This tutorial introduces a novel approach to achieve more sustainable composites by utilizing vitrimers based on aromatic disulfide exchange chemistry. They can be easily formulated from readily available commercial products.
In this presentation, Irene Rodríguez, Head of Sustainability for Vestas in Southern Europe, Middle East and Africa, will explain Vestas' Circularity Roadmap and what the novel technology consists of. Vestas is a leading wind turbine manufacturer with presence in over 80 countries and over 166 GW of wind capacity installed. In 2020, the company announced a Sustainability Strategy entitled "Sustainability in Everything We Do" and promoting circularity is one of its key pillars. Through its industry leading Circularity Roadmap, the company is committed to creating zero-waste wind turbines by 2040. This means creating technically and commercially recyclable blades and increase material efficiency by 90 percent.
CSIC (Pyrolisis recycling)
B-Circular is a spin-off of the Spanish National Research Council (CSIC) aimed at developing and exploiting waste composite recycling technologies and has developed the R3FIBER technology with the aim of allowing the integral recovery of the composites generated in the aeronautical, automotive, wind and nautical industries, among other sectors. The recovered high-quality fibers can be re-used thus contributing to circular economy.
R3FIBER allows the integral use of composites without the production of waste. The composites undergo a thermochemical transformation process that allows the transformation of resins into combustible gases and liquid fuels, obtaining (glass or carbon) fibers suitable for reuse. Therefore, there are no limitations in the use of composites or in the management of the material if it contains carbon or glass fibers.
Pre-Conference Tutorials are not included but need to be booked in addition of the Conference Ticket or as Tutorial only.
See the registration form for the rates.
Thursday 5 October 14.00 – 18.00
Plant Visits (six choices):
AIRBUS production plant of aeronautical parts in composites. Areas to visit: A350 Wing Lower Cover and Section19.
Visitors will have a plant tour of the new HEXCEL factory building in Parla to see Hot Melt impregnation lines. Visitors need to bring their own safety shoes.
Visit will follow the manufacturing process. Cutting, ATL, AFP and hot forming machines. Bagging, autoclave and demolding, visual, dimensional and UT inspection. Assembling: A350 HTP, A350 BK, A350 Pylon Spar, A350 pax doors, A220 CWB, A220 VTP, Dassault FX10 wing spars, Boeing 787 APB (depending on manufacturing possibilities).
IMDEA & FIDAMC offer a combined visit. The visit will start at the IMDEA auditorium, and after you will go to FIDAMC (walking).
We will visit IMDEA facilities including; Synthesis of advanced carbon nanofillers; Manufacturing of composites by infusion/injection and 3D printing for aerospace and healthcare; Advances in AI applied to manufacturing; Digital twins and the Multiscale mechanical & functional characterization laboratory.
Visit to the mechanical and physical laboratories and Workflow of FIDAMC. FIDAMC employees will show you all composites manufacturing technology facilities, mainly used for aeronautical sectors and others.
Talgo is a company, specialized in design, manufacture and maintenance of the rolling stock, funded more than 80 years ago. Talgo has the following key success factors: innovation, sustainability, safety, quality, competitive and full custom approach to every project. Talgo´s unique and highly efficient technology is recognized at the international level, with Talgo trains successfully operating in 44 countries of the four continents.
Las Matas one of the factories that Talgo has in Spain. Las Matas I is a manufacturing plant of trains and maintenance equipment, main engineering offices and the headquarters of the company. Las Matas II is the factory where power heads and locomotives are manufactured from the very beginning (welding and assembly) until the final checks. In addition, coaches interiors, mechanical and electrical installations are finished. You will see mainly high-speed intercity trains from Germany and Denmark, and some very high-speed trains for Spain.
Together with manufacturing activities of coaches and locos, manufacturing activities and maintenance activities of running gears are done. To finish the visit, they show the latest R&D project for the introduction of composite material in railway environment: CFRP running gear frame and CFRP-Al carbody shell in the mechanical test laboratory.
INTA Materials and Structures department is involved in cryogenic material testing since 1996. The cryostat testing device permits material characterization in tension/compression/flexure with standard specimen sizes at temperatures between 10K and 100K. Initially, this device was used for the cryogenic tank development of reusable launchers in ESA projects, but actually it is used for material characterization for sustainable aircraft with liquid hydrogen propulsion.
Additionally, the department is performing developments and tests on cryogenic tanks, including sloshing, and cryogenic tubing in close cooperation with AIRBUS for future
sustainable aircraft. During the visit, the cryogenic materials testing device, the cryogenic tank, and tubing testing device will be visited and explained. The visit may also include the fuel cell testing laboratory of the Propulsion department of INTA.
Plant visits are free of charge and included in the Conference Ticket. Participation in a tour is dependent on approval of the hosting company.
Warning for all locations: don't forget to take your passport when attending the excursion. Without a passport, no access!
Conference Tickets are available.
Professionals
• Professional Members – € 850,00
• Professional Non-members – One-year Free Trial Membership included – € 950,00
Students
• Master and PhD Student Members – € 425,00
• Master and PhD Students Non-members – One-year Free Trial Membership included – € 475,00
Authors (for both Oral and Poster presentations)
• Professional Authors and Co-Authors – € 700,00
• Student Master / PhD Authors and Co-Authors – € 350,00
All ticket prices are incl. 0% VAT. Options marked with 'FREE Trial Membership' include free SAMPE Membership until 1st of October 2024.
Call for Papers
SAMPE Europe seeks high-quality Technical Papers that focus on Challenging Applications in Composites encompassing advanced composites materials, their processes, research, and development.
Become a Sponsor
A SAMPE Europe Conference will be an excellent showcase for suppliers of Composite Materials and Processing.
C. del Rey, 38, 28200 San Lorenzo de El Escorial, Madrid
For registered Delegates only – fully booked.
SE Conference Madrid 2023